Pool Table Recovering Service in Seattle
For pool table recovering we will come out to your home and remove the existing felt from your pool table, replacing it with Championship Titan or Tour Edition. We double-check your billiard table to see if it is level, if it isn't, we will fix it. Other brands of felt can be available. Championship happens to be the best and therefore we use them. Please click on the link to choose a cloth color. When you call or send an e-mail, tell us which one you choose.
For a quick pool table moving quote, give us a call or just email us! We can also apply pool table felt for a smooth recovering job when we arrive to professionally install your pool table, just let us know in advance the type and color and we'll have it ready for your installation.
Expert pool table refelting in high-quality felt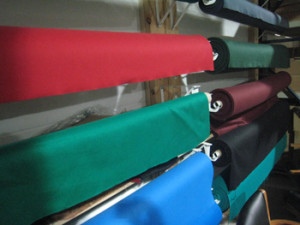 There are differences between standard cloth and upgraded worsted material. The worsted material is manufactured differently and rather than having the fuzzy finish it is very smooth and durable.
The worsted felts play much faster and give the player more responsive and different gaming experience. You can order your pool table recovering in either material.
Pricing your pool table refelting service
Pricing fluctuates in the area depending on what type of pool table cloth you choose and what type of pool table you have. We'll need to know the following:
Playing surface area of the pool table
The style of pocket build
If the pool table is an antique or modern style
If it is already setup and playable or in pieces.
If you are looking into having your first pool table and need it installed and recovered, please check out our pool table room sizes guide in case you need help finding an appropriate size. As for the type of cloth, below are the types of pool table felt we supply for a pool table recovering service.
Standard and upgraded pool table felt
Standard woolen pool table felt colors (Opens in a new window.)
Stain-resistant material.  Woolen felt is what is most commonly found on pool tables and is most commonly what is offered with all new pool tables.  The texture is a little "fuzzy" and is the slowest of the materials which makes it also the most economical of the options.
Simonis worsted felt colors  (Opens in a new window.)
Standard worsted non-brand colors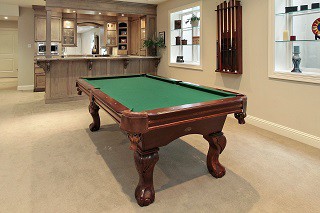 (Colors may be limited, contact us to get current colors available.)
The SOLO® Pool Table Movers in Seattle guarantees all of our workmanship, this guarantee is issued by the American Billiard Installers Association.
We can certainly take care of all your pool table needs. Lastly, please make sure you double-check the size of the pool table you're interested in to verify it fits in your game room.
All products and services are covered under our exclusive ABIA service guarantee against rips, tears or manufacturers defects for 1 year after application.
The SOLO® Pool Table Movers of Seattle thank you for visiting our site.